WELCOME TO WELLNESS.
We support every patient in discovering vitality and health.
Sometimes, it is necessary to find a different pharmacy for your prescriptions. We handle the process, so there is no headache for you. You can call us at (919) 694-5357, or you can fill out our secure form, and we will get back with you.
Dr. Megan Pasookhush's advanced training and specialized skill-set can help assess hormones and address problems such as infertility, PMS, weight gain, hot flashes, foggy thinking, low libido, low testosterone, and post-menopausal symptoms.
Schedule an appointment with Dr. Pasookhush, if you would like to better understand your medications. Dr. Pasookhush has an integrative approach to pharmacy. She believes the more informed the patient is about their prescriptions, the better their outcome.
Our state-of-the-art compounding lab specializes in custom compounds made with FDA-approved ingredients. We address issues such as diet and allergy restrictions in providing medications that are no longer manufactured or hard to find.
Wellness Pharmacy understands there is more to weight loss than dieting. Harnessing the power of science, we develop individualized plans that work with you and your body. We provide nutritional strategies and tools for success.
PAWscriptions Compounding™ is a unique compounding service offered exclusively at Wellness Pharmacy and its subsidiaries. PAWscriptions Compounding™ is led by our PCCA-certified veterinary compounding specialist.
Chances are if your hormones are out of sync, so are you. With advanced training in hormone therapies combined with our network of medical providers, we can assess your levels and develop a plan to help you feel like yourself again.
We provide a range of solutions to help our patients look and feel their best. From medical-grade skin care to correcting hormonal imbalances, we can help you reconnect with your youthful vitality so you can look as well as you feel.
Stop by the Pharmacy and step into Wellness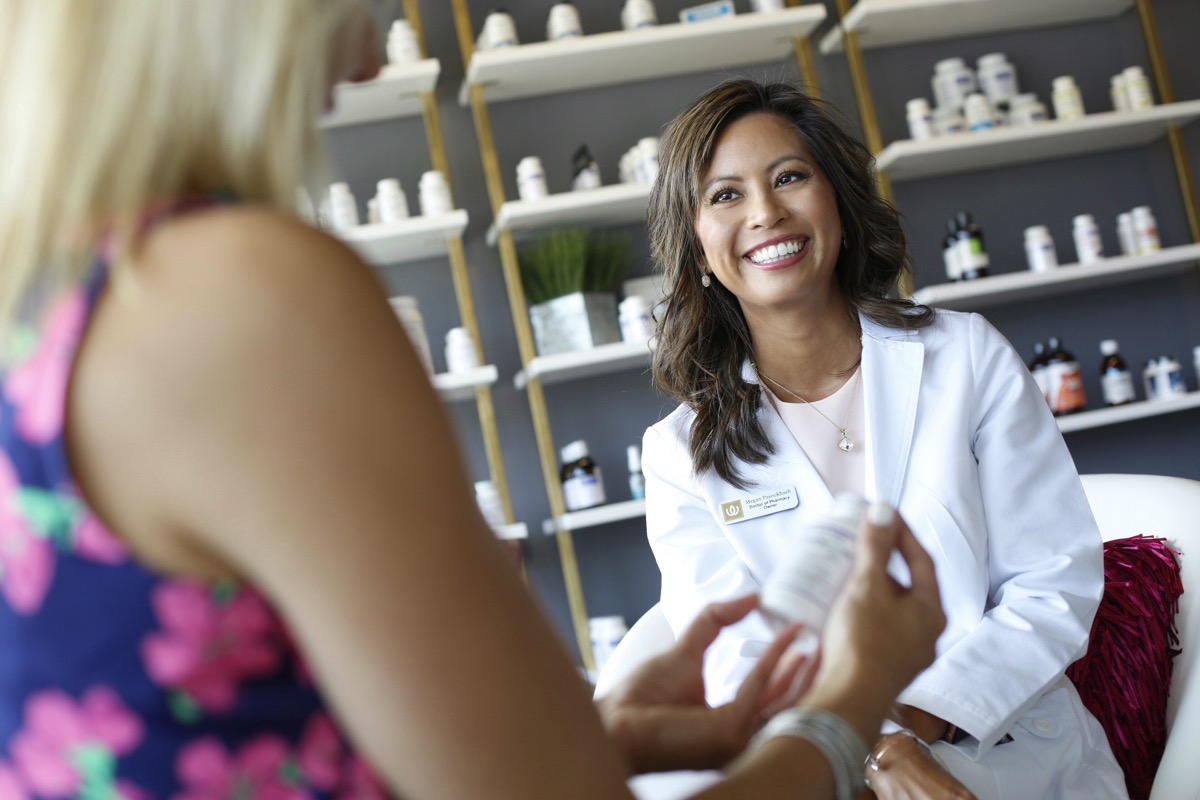 What our patients have to say...
"After the birth of my twins ( the last 2 of my 5 children) I was feeling pretty run down and in need of some serious intervention. I came across some blog information from Dr. Megan's website. Everything she said just seemed to make so much sense. My body was definitely out of balance and it seemed like all signs were pointing to a hormonal imbalance. I spoke with her over the phone about the symptoms I had been experiencing. I was skeptical about starting natural hormone replacement therapy and had lots of questions, but she took the time to answer them all. She not only addressed the hormonal imbalance but the overall health of my body as well. After being under her care for over a year now I am feeling so much better. Dr. Megan is a wonderful pharmacist. She is so knowledgeable in the field of hormone replacement therapy and dedicated to the care of her patients. I feel blessed to have found such a wonderful doctor."
- Amie E.
Dr. Pasookhush was awarded the prestigious, A4M Member of the Month designation, Feb. 2019.
Dr. Pasookhush was selected out of 26,000 A4M providers for her remarkable knowledge of Anti-Aging Medicine. Dr. Pasookhush's passion about detecting, preventing and treating aging-related health concerns has made her an expert in the industry.
Megan Pasookhush, PharmD, MBA, RPh, FAARFM, awarded PCCA Pharmacist of the month. Read PCCA's one-on-one profile with Dr. Megan; revealing her philosophy about compounding and providing personalized patient care here.
PCCA Awards Dr. Pasookhush the
2018 George Roentsch, RPh, Scholarship.